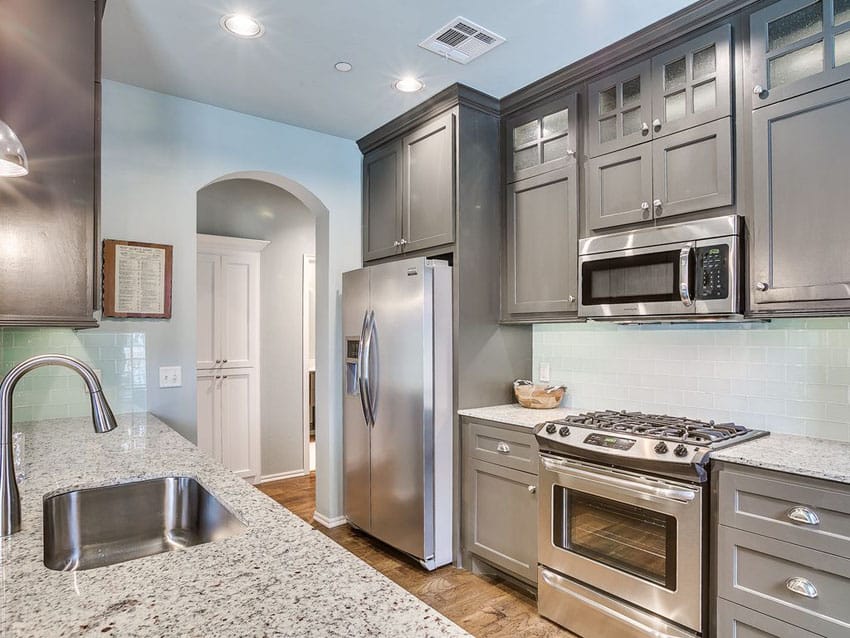 A Navy Chief Petty Officer is never given the "how-to" just the task to accomplish. The wisdom of the Chiefs' Mess provides suggestions and a sounding board. That is the wisdom I have lived for the past thirty-five years. For the last several days, I have been dismantling, cleaning, and priming the wood cabinets in our sixty year-old galley kitchen. Removing grime of years needed scrub pads, many buckets of hot water and TSP, and elbow grease. Cleaning and dismantling was easy compared to the next phase of the "in-port Habitability period" (remodeling, for you civilian-types).
What color do I like? I am not sure what "warm", "complementary" or "2019" colors are. What drawer and cabinet hardware do we want? After hours of online research for kitchens resembling ours, I was given some wide margin. The retired Boatswains Mate at Lowes suggested a cabinet paint that will be "one coat and done" at $50 a gallon. Suspecting, if up to me, I would get the wrong shade, I bought a small can of primer instead, and had Valspar "Voyage" tint added.
In 2019, matching paint and counters to a thirty-plus year old floor was low on my list of worries. Few current-millennium homes have white-tile floors throughout (the previous owner cursed us). Tearing up the floor was a job all my friends said would be a nightmare, so my first thought, would a terrazzo coating over the tile be an option? I kept that idea to myself. I had some experience working with it aboard the USS PETERSON. Color-matching the terrazzo, cabinet paint, with a yet-undecided new countertop, would challenge this Chief's can-do. We both decided that the floor could be covered with a mat. As for colors, I was going to opine to the Admiral that her next shade pick was a glossy (Navy) Deck Gray. Shipboard colors were kept utilitarian and for camouflage. Deck Gray for decks. Haze Gray for exterior bulkheads (walls) and White, plain white for most everything else. I decided to keep that to myself also.
Next item: these cabinets and drawers never had handles before. I am thinking how to install cabinet handles and pulls precisely. I will need to design a rig to do that. With the ongoing plan to repaint the whole house interior, I am scheduling my "Intermediate Maintenance Availability" for as long as it takes. But time is not really the issue; I am not commuting to a job any longer, so as long as the job is done well, the Admiral shouldn't fire me?